Main content starts here, tab to start navigating
Medium 12" (serves 2-3)
Large 14" (serves 3-4)
Impossible Pizza

Red Onions, Mushroom, Olives, Tomatoes and IMPOSSIBLE meat on organic tomato base

Chicken Pizza Masala

Best Seller! Inspired by the classic Chicken Tikka Masala, made with tender chicken, red onions, tomatoes & fresh cilantro on a creamy garlic base

Spicy Gyro

Tender masala lamb, red onions, bell peppers, tomatoes & fresh cilantro on a creamy garlic base

Mango Monsoon

Mangos, bell peppers & red onions showered with a medley of Indian chutneys & spices on our slow cooked curry sauce

Okie Dokie Artichokie

Organic spinach, garlic, zucchini, mushrooms, red onions, artichoke hearts, tomatoes & Parmesan on a creamy garlic base topped with green onions

Greek Sheek

Tomatoes, red onions, black olives, feta cheese & seasoning on house walnut~pesto base

Aloo Gobi

Spiced cauliflower & potatoes, red onions, bell peppers, tomatoes & fresh cilantro on our slow~cooked curry sauce

Chilifornia

Bell peppers, fresh cilantro & your choice of eggplant, paneer or chicken on an organic chilifornia base. Eggplant option has red onions in place of bell peppers

Meatie

Meat Lover's Dream! Ham, pepperoni, salami & Italian sausage on an organic tomato base

Tandoorilicious

Red onions, bell peppers, tomatoes & fresh cilantro with your choice of chicken, paneer or potatoes on a spicy creamy garlic base. No green peppers with potatoes option

Korma

Korma paneer or korma chicken, red onions, bell peppers tomatoes & fresh cilantro on our slow~cooked curry sauce

Maha Veggie

Bell peppers, red onions, tomatoes, sweet corn & fresh cilantro on a spicy tomato base
Pesto Spinach

Garlic, feta cheese, roasted cherry tomatoes & spinach on our house walnut~pesto base

Pesto Chicken

Roasted cherry tomatoes, red onions and chicken on our house walnut pesto base.

Garden Veggie

Mushrooms, bell peppers, red onions, black olives & tomatoes on an organic tomato base

Garlic Chicken

California Made! Garlic, mushrooms, red onions, garlic chicken breast, tomatoes & Parmesan topped with green onions

Pep Paneer

Bell peppers, tomatoes, pepper paneer, red onions & black olives on a spicy tomato base

Spicy Garden

House walnut pesto base, red onions, bell peppers, carrots, olives, pineapple & jalapeno peppers

Combination

Bell peppers, ham, salami, pepperoni, red onions, mushrooms, black olives & Italian sausage on an organic tomato base

Palak Paneer

Spiced paneer, organic spinach, red onions, tomatoes & fresh cilantro on a spicy tomato base

Butter Chicken

Red onions, tomatoes & chicken smothered in butter, cardamom & other freshly ground spices topped with fresh green onions

Margherita

Fresh basil & premium cheese on an organic tomato base
Please be advised that our vegan cheese may contain nuts
Impossible Pizza

Red onions, Mushroom, Black olives, Tomatoes and IMPOSSIBLE Meat on organic tomato base.

Mango Monsoon

Chillifornia Eggplant

Aloo Gobi

Maha Veggie

Garden Veggie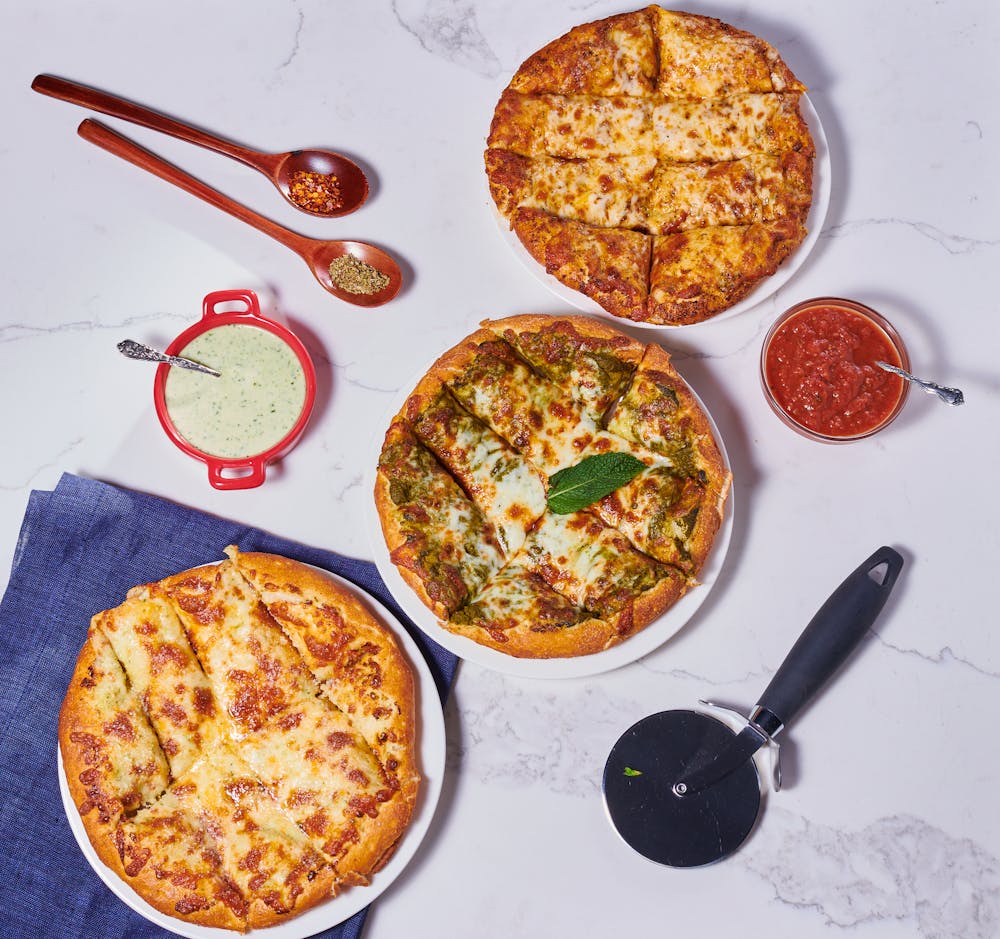 Breads
Small 8" | Medium 12" | Large 14"
Cheesy Garlic Bread

Premium cheese on a creamy garlic base, served with organic marinara sauce

Minty Namaste Bread

Premium cheese on our spicy mint chutney sauce, served with organic marinara sauce

Spicy Bread

Premium cheese on our masala sauce, topped with red onion and jalapenos. Served with organic marinara.
Wings
Choose masala or buffalo wings, served with your choice of ranch or minty dip
Choose Your Crust
Med 12" Original or Thin

LG 14" Original or Thin

Gluten Free Med 12"
Choose Your Sauce
Organic Tomato Base, Creamy Garlic Sauce, Slow-Cooked Curry Sauce, Organic Chilifornia Base (spicy), House Walnut-Pesto Base
Choose Your Toppings
Organic Spinach

House Eggplant

All-Natural California

Black Olives

Sweet Corn

Tomatoes

Mushrooms

Marinated Artichoke Hearts

Fresh Basil

Pineapple

Garlic

Red Onions

Bell Peppers

Jalapenos

Zucchini

Chicken

Pepperoni

Smoked Ham

Italian Sausage

*Turkey Kabob

*Tikka Masala Chicken

*Tandoori Potato / Chicken / Paneer

**Masala Lamb

*Butter Chicken

Daiya Cheese

available as vegan option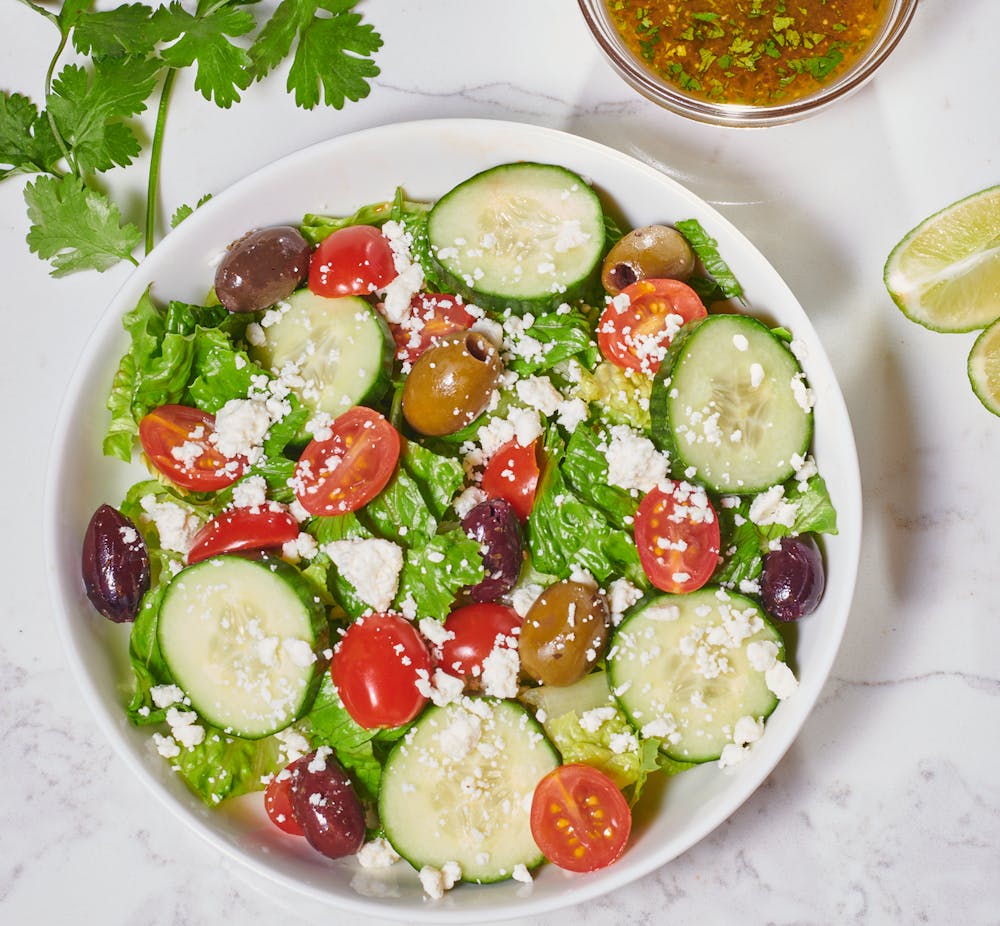 Salad
Spring Mix

Organic mixed greens, cherry tomatoes, cucumbers, red cabbage & Mediterranean olive-mix

Greek

Crisp romaine, cucum bers, cherry tomatoes, Mediterranean olive-m ix & feta cheese

Caesar

Crisp romaine, croutons & shaved Parmesan

Dressings

House Lime-Cilantro, Ranch, Caesar, Balsamic Vinaigrette
Sweet
Apple Walnut Pizza

Fresh, diced apples & walnut cinnamon crumble on a sweet cheesy apricot base

Rasmalai

Soft milk based spongecake in cardamom flavored milk with pistachio

Gulab Jamun

A classic milk solid based sweet.